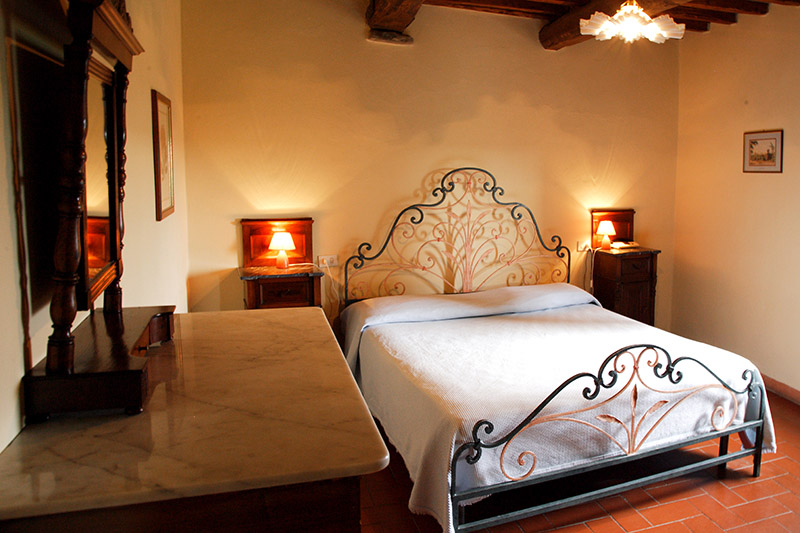 Hospitality
Rooms and apartments
Borgo Castelvecchi offers both apartments, ideal for families or groups of friends, and rooms.
The rooms of Borgo Castelvecchi, a farmhouse in Chianti, are arranged in the stone Rustici, which surround the small square of the Borgo.
Once these rooms, completely renovated and functional, housed the farmers of the farm. The typicality of the houses has been completely maintained: the exposed beams and terracotta floors give the accommodation the memory of their origin.
The rooms of our hamlet near Siena have a private bathroom with shower, hairdryer and fridge. There is no minimum stay requirement and the prices include the buffet breakfast service served by our Castelvecchi Arum Regis snc restaurant.
Other rooms are located in the elegant manor house of Borgo Castelvecchi located on the ground floor.
The location with access from the main gallery, the furnishings with authentic furniture, the decorations, the general view of the park and the attention to detail enhance the rooms.
The apartments of Borgo Castelvecchi are located both in the farmhouses of the village (for 4/6 people) and on the second floor of the Villa (for 2/4 people) from which you can enjoy a fantastic view over the Radda valley.
Our Apartments in Tuscany feature a wide view of the Chianti landscape, the beautiful gardens and historic courtyards of the village.
The apartments are fully equipped with linen, crockery and anything else you may need to enjoy your stay in complete autonomy and independence (automatic telephone, individual heating).
The structure is that of a typical Tuscan village, arranged on several levels and with large rooms all equipped with a fireplace, even with an electric extractor fan.
The materials are typical of hand-made terracotta and stone, with mostly authentic exposed beams and rafters from the original premises. The toilets are all equipped with a hairdryer and a shower with box; the composition of the units consists of lounge, kitchen, bathroom/s and one, two or three bedrooms.
The furnishing of our apartments in Chianti is in "arte povera" style, enriched by authentic pieces from the 19th century, prints and furnishings, which contribute to creating a welcoming and less impersonal atmosphere.